Hello World!  Here's my type of recipes – no cook :). I really don't like to cook, but these are also good recipes on hot nights when you don't want to turn on your stove. I hope you find these yummy as they sure sound good to me…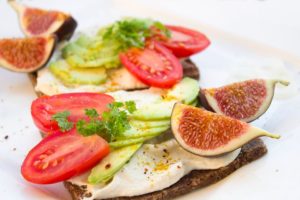 No-Cook Recipes for Hot Summer Nights (or for when you just don't feel like cooking 🙂 )
Let's face it: no one really wants to cook on a hot summer evening, and sometimes we just don't feel like cooking for no particular reason. So what do you do when you're hungry? You whip up one of my favorite recipes that are fast and easy, and better yet, involve no cooking.
Guacamole Salad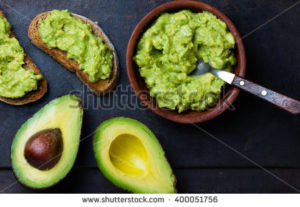 Serves 2 to 4
This is one of my favorite salads.
It's refreshing, delicious and perfect for a hot summer night when your tomatoes are coming out of the garden or farmer's markets. But it is so tasty you'll want to enjoy it year-round.
One head of leaf or Romaine lettuce (washed and dried)
1 tomato (chopped into cubes or large chunks)
1 avocado (chopped into cubes)
1 lime
1 small clove garlic
dash Celtic sea salt
dash black pepper
handful fresh cilantro
1 Tbsp. Cold-pressed flax oil
1 handful of pea shoots to garnish
Cut or tear lettuce and you place in bowls to form a base for the other salad ingredients.
Place tomato, avocado, Celtic sea salt, cilantro and flax oil together in a separate bowl.
Squeeze the juice of your lime over the other ingredients.
Chop or press garlic into the bowl with the other ingredients.
Toss ingredients together. Serve tomato/avocado mixture over the salad greens. Top with the pea shoots.
Summer Rolls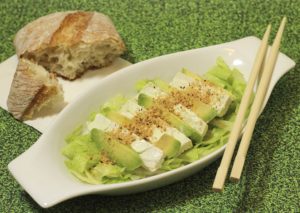 If you'd like, use large, soft lettuce leaves in place of the rice wrappers. Set out bowls of the vegetables and have everyone make his or her own rolls if you're having guests over.
Makes 4 Servings
Sauce:
/3 cup low-sodium organic vegetable broth
1 tablespoon reduced-sodium soy sauce or tamari
1 tablespoon fresh lime juice
1 teaspoon white wine vinegar
Pinch of ground red pepper
Rolls:
1 8-ounce package of brown rice vermicelli noodles (soak in hot water for a few minutes or until soft and then you strain and set aside)
8 8-inch round rice paper wrappers
¼ cup chopped mint leaves
¼ cup chopped cilantro
½ avocado, cut into 8 thin slices
1 cup fresh spinach, cut into strips
1 red bell pepper, cut into thin strips
1 carrot, shredded
To make the sauce: In a medium bowl, whisk together the broth, soy sauce, lime juice, vinegar, and red pepper.
To make the rolls: Soak 1 rice paper wrapper in warm water for 30 to 60 seconds, or until soft.
Carefully transfer to a clean work surface, preferably a wooden cutting board. Place ½ tablespoon of your mint and ½ tablespoon of the cilantro along the bottom third of the wrapper. Top with one-eighth of the noodles, avocado, spinach, bell pepper, carrot, and chicken.
Fold the bottom of the rice paper up and over the filling. Fold in the sides and continue rolling until the roll is sealed completely.
Repeat with your remaining wrappers and fillings. Cut each roll in half crosswise and serve 2 rolls per person, with your sauce.
Thai Noodle Salad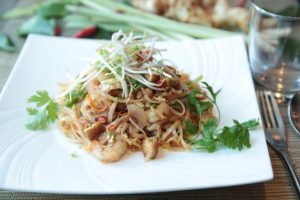 Serves 4
Don't be alarmed by the lengthy ingredients list. You can assemble this delicious and incredibly fresh-tasting salad in 10 minutes. And if you're missing a couple of the salad ingredients, don't worry; just use what you have. After creating it the first time, I ate it every day for a week. It's that good! As an added bonus: You can make the dressing ahead and store it in the fridge for a week for a quick-and-easy lunch or dinner.
Salad Ingredients:
1 8-oz. package of brown rice vermicelli (which can be soaked in a bit of hot water for a few minutes) or a 14-ounce package of konjac noodles, which simply need to be drained and rinsed
½ package baby Romaine lettuce leaves
2 cups mung bean sprouts (optional)
1 carrot, grated
1 red pepper, cut into 2-inch strips
½ cup snow peas, cut in half lengthwise (optional)
1 green onion, cut into diagonal pieces
½ cup fresh cilantro, chopped
½ cup raw, unsalted peanuts or almond slivers
Lime wedges to garnish
Dressing Ingredients:
¼ cup fresh cilantro
¼ cup fresh mint
½ green onion
1 clove garlic
1-inch piece fresh ginger
2 tbsp. fresh lime juice
2 tbsp. extra virgin olive oil
½ cup almond milk
¾ teaspoon salt
Dash cayenne
Soak or rinse the noodles, depending on the variety you are using. Set aside.
Place all dressing ingredients into a wide-mouth jar and blend with a hand-blender. Alternatively, place all ingredients into a small blender or food processor. Set aside.
Place a base of lettuce on each plate. Add a handful of noodles to each. Then top with plenty of mung bean sprouts, carrots, red peppers, and snow peas. Sprinkle freshly chopped green onion, cilantro, and peanuts on top. Garnish with lime wedges
Bean Salad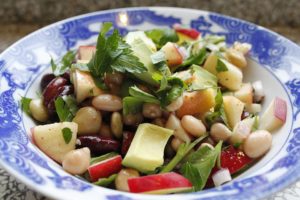 Serves 4
This salad is high in protein and fiber.
It is a snap for you to assemble and with the help of a can of beans requires no cooking at all.
1 14-ounce can cooked mixed beans (such as kidney, garbanzo, pinto, etc.) rinsed and drained
2 stalks celery finely chopped
1/4 purple onion finely chopped
1/2 red or yellow pepper finely chopped
3/4 cup cold-pressed flax seed oil (make sure it is refrigerated)
1/3 cup apple cider vinegar (with sediment in the bottom—purchase at a health food store)
1/2 teaspoon Celtic sea salt
1 Tablespoon pure maple syrup
1/2 teaspoon basil
1/2 teaspoon thyme
1/2 teaspoon oregano
dash of cayenne pepper
Mix the cooked beans and chopped vegetables together in a bowl.
In a jar whisk together the flax seed oil, apple cider vinegar, Celtic sea salt, maple syrup, basil, thyme oregano and cayenne pepper.
Pour half of the dressing over the bean and vegetable mixture.
For best taste, let marinate overnight or a couple hours. Store the remaining dressing in a covered jar in the refrigerator for later use.
---
I hope you'll try some of these great sounding "no cook" recipes. I know I will. If you make any of these, let me know by leaving a comment below…
Have a great healthy day!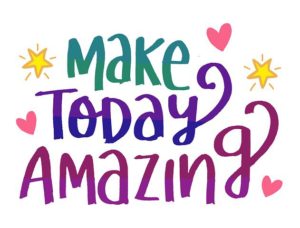 Save